Madeira Beach Real Estate
Why trust us with your Madeira Beach property? Because we've served this beach in particular, along with our surrounding gulf beaches, for over 35 years.
We know how unique Madeira is, from the wonderful and notorious Johns Pass, the hidden gems of the inter-coastal waterways, to the white sandy beaches that stretch for miles.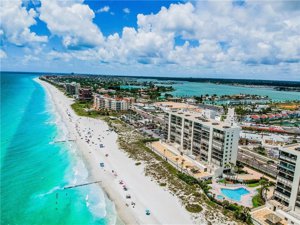 Our office is located in the heart of Madeira, allowing us to work and live this enchanting town everyday. Whether you're looking to part ways and sell your home to someone who will love the 'Mad' Beach lifestyle as much as you do, or joining this illustrious community by purchasing a piece of Madeira yourself, we can guide you every step of the way.
Why Madeira Beach?
Madeira Beach is much of an escape from an everyday lifestyle. Even working in Madeira isn't really "working", especially not with the views. Johns Pass Village and Boardwalk is buzzing with more than 100 shops and restaurants in a Old Florida-style waterfront atmosphere. Take the Tom Stuart Causeway, an impressive bridge with great views, to this bustling beach. Explore the surf shops and art galleries, then enjoy fresh seafood along the boardwalk at the Friendly Fisherman or Sculley's. With it's 2-mile long stretch of sand, Madeira Beach is the perfect escape from, well, everything!